Free Public WiFi – Now in Ararat!
Image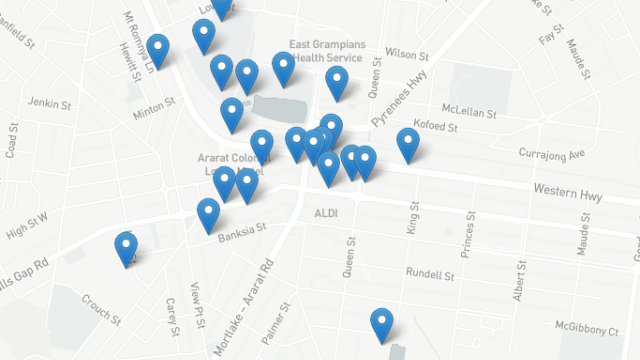 Free public WiFi locations in Ararat Rural City 
Free Council WiFi is now available at public hotspots across the Ararat township.  
Council's free public WiFi aims to bring the community and visitors together and enable people to stay connected inthe public spaces in Ararat and surrounds.  
Thanks to a $1.56 million grant from the Victorian Government, Ararat Rural City Council have worked with Telstra on the co-design of the rollout which provides public access to a next generation (WiFi 6 enabled) free WiFi service at key economic, tourism, recreation and cultural precincts. These locations include: 
Ararat Retail Precinct - Barkly Street, from Queen Street to Ligar Street  

Ararat Town Hall, Performing Arts Centre, Ararat Gallery TAMA and the Ararat Visitor Information Centre 

Soldiers Memorial Park 
Ararat Railway Station and Bus Interchange 

Alexandra Gardens, Ararat Active Corridor, including Ararat Skate Park, Ararat Dog Park, and the Basketball Half-Court 

Alexandra Oval Community Centre and Sporting Precinct 

Gordon Street Recreation Reserve 

Ararat Jobs and Technology Precinct, Laby Street 
Kmart Carpark 

Ararat Library 

Langi Morgala Museum 

Ararat Fitness Centre 

Alexandra Hall 
The following locations in the township of Lake Bolac will also receive free WiFi coverage, expected to be available before Christmas.  
Lake Bolac Information and Business Centre 

Lake Bolac Complex 

Lake Bolac Recreation Reserve 
Lake Bolac Foreshore, Eel Festival Event Space. 
How to access Free Council WiFi  
Look up available networks on your device 
Select 'Free Council WiFi' 
Accept the terms and conditions 
You do not need to provide personal information, passwords or wait for any pop-up advertising to log in. 
Staying safe online 
No public WiFi is totally secure. Here are some ways to stay safe when accessing any free public WiFi network. 
If your WiFi connection isn't encrypted, others using WiFi in your area may be able to monitor information passing between your device and the network. 
Staying safe on public WiFi 
Avoid sensitive transactions like banking 

Maintain anti-virus protection 

Install a trusted VPN app 

Keep software updated 
Resources to help you stay safe online 
eSmart: educational tools to tackle bullying and cyberbullying 

eSafety website: information on how to protect children if they experience cyber bullying or prohibited online content 

Kids Helpline: children, teens and young adults aged 5–25 can access free and confidential online and phone counselling 24 hours a day, 7 days a week on 1800 551 800 
iParent: guidance for using safety settings on your family's web-connected devices 

Stay Smart Online: help to understand risks and simple steps to protect your personal and financial information online 
Make a complaint about cyber safety 
The Australian Communications and Media Authority has useful information on how to stay safe online. They can help with: 
cyber safety information. 
The authority also completes: 
cyber safety research 

information awareness campaigns and activities 

education materials for use in schools.