Image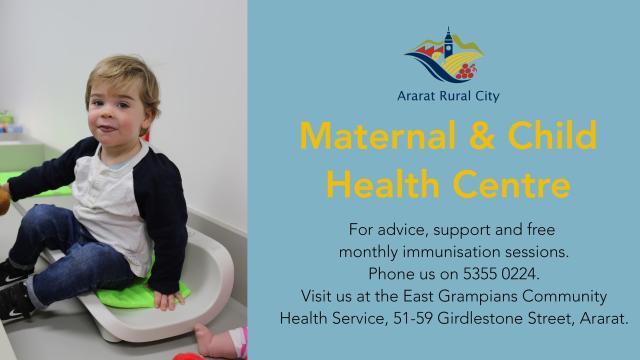 Ararat Rural City Council provides a free service for families with babies and children aged from birth to 4 years. The service is funded through the State Government and Council.
The Maternal and Child Health service is a valuable resource for information on all things family. Our team promote the health and wellbeing of families, monitor the health, growth and development of babies and children, give support and advice on health and parenting issues.
We offer an initial home visit after your new baby is born as well as appointments at the maternal and child health centres across the municipality. Health & development checks are recommended at 2 Weeks; 4 Weeks; 8 Weeks; 4 Months; 8 Months; 12 Months; 18 Months; 2 Years; and 3.5 Years, additional visits outside these ages are also welcome.
The team can give advice about local services, kinder enrolments, playgroups and activities throughout the municipality. Feel free to use our waiting room as a safe area to feed, change or play when you are out and about. New Parent Groups are run on a regular basis for first-time parents to meet and share experiences.
Immunisation session to go ahead
Ararat Rural City Council's Maternal Child Health Service is going ahead with its free monthly immunisation session on the 3rd Wednesday of every month. 
The session is by appointment only, please phone us on 5355 0224.

Please do not attend if you or your child are unwell 

The service also has the flu vaccine available for 6 months to under 5 years.

Appointments will be at the MCH Centre in the East Grampians Community Health Centre, Girdlestone Street, Ararat.
 If you have any concerns, please do not hesitate in contacting our Maternal and Child Health Nurses on 5355 0224.
Important information
Contact details
The Ararat Office is located inside the newly renovated East Grampians Community Health Centre at 51-59 Girdlestone Street, Ararat. Our phone number is 5355 0224. 
Rural visits
Our nurses visit Lake Bolac, Willaura, Streatham, Moyston and Elmhurst regularly, rural centres are by appointment (contact the Ararat centre on 5355 0224):                 
Elmhurst - by appointment only
Bush Nursing Centre, 36 Green Street, Elmhurst 
 
Moyston
First Wednesday of the month: 9.30 - 11.30am
Moyston Primary School Playgroup - drop-in session, 1349 Ararat-Halls Gap Road, Moyston 
 
Streatham
Second or fourth Tuesday of the month by appointment only
MCH building in Campbell Street
 
Lake Bolac
Second or Fourth Wednesday of the month by appointment
Lake Bolac Bush Nursing Centre, 155 Montgomery Street, Lake Bolac
 
Willaura
Second Wednesday of the month - 9.30am - 11.30am
Willaura Primary School Playgroup, 14 Warranooke Road, Willaura. 
Immunisations
Our trained specialist immunisation nurses provide a range of vaccinations and advice. We offer free immunisations to:
Children aged 0-4 years, vaccinations are held on the third Wednesday of each month at the Ararat Maternal & Child Health Centre (MCHC) by appointment only
Lake Bolac by appointment only 
Secondary school students as part of the Secondary School Immunisation Program 
Free seasonal Flu Vaccine for children 6 months - 5 years old by appointment only. 

To make an appointment, please contact us on 5355 0224.
Did you know you can access your child's immunisation records over the internet? Go to the Medicare Australia website, and register for a password. This gives you secure access to your child's records
Important links and contacts
Below are a list of links and contacts which are all full of valuable information and assistance:
Search for 'Ararat Rural City Maternal and Child Health Service on Facebook
Maternal and Child Health Line - 13 22 29
The Maternal and Child Health Line is a 24-hour telephone service (phone 13 22 29 in Victoria). Qualified Maternal and Child Health Nurses offer information, advice and referral to all families with young children.