About us
The much-loved Ararat Town Hall is a highly utilised community venue and regional tourist destination. The Town Hall holds pride of place in the community, with both the building and its subsequent service to the Ararat community representing significant local civic and cultural heritage. Its high-profile location serves as a centre-piece of Ararat's rural municipality and is a well-known landmark and cultural destination across the region.
The Town Hall's performing arts program primarily focuses on supporting the local community, presenting an annual program of quality touring works from a range of disciplines from circus, to theatre to fine music. The program is further complimented by seasons by local ensembles including the Ararat Music Comedy Society, Ararat Theatre Company, the Ararat Eisteddfod and annual concerts by local dance schools. Further to these, the venue is heavily utilised by community and civic functions, local schools and commercial hirers.
Image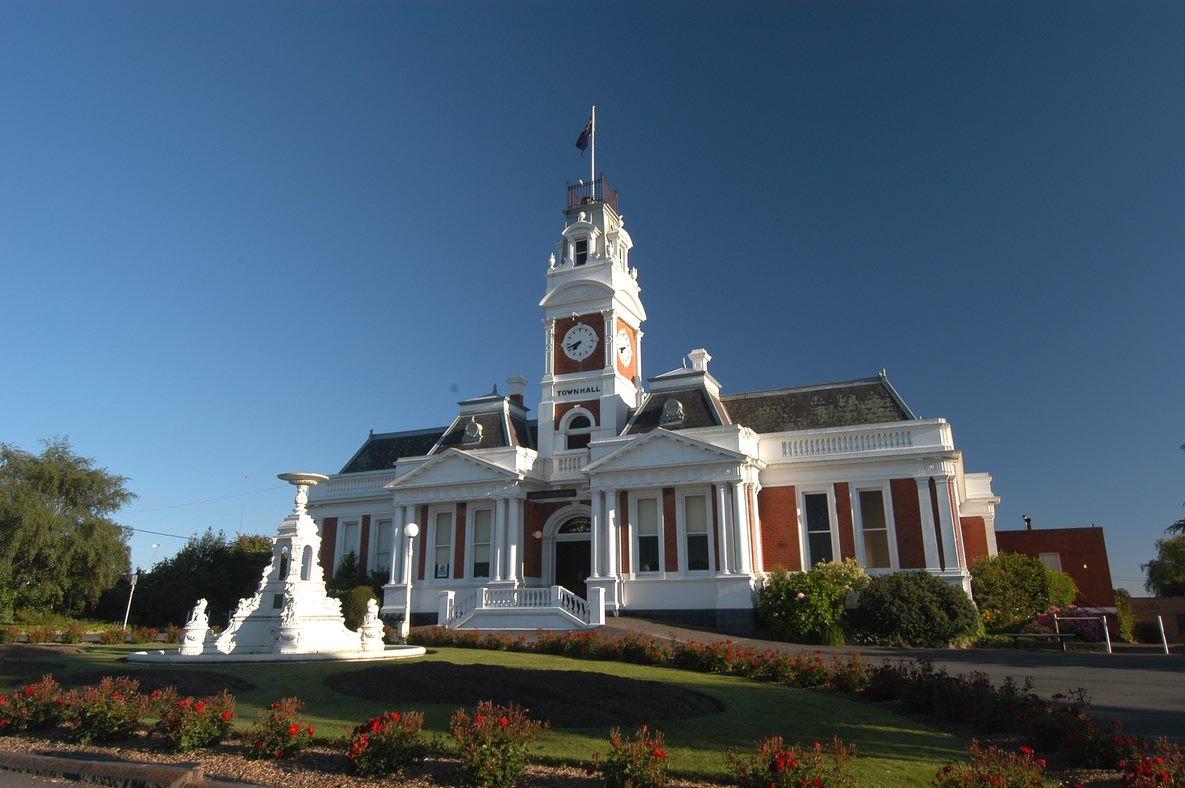 Visit us
Address: 193 Barkly Street, Ararat
Phone: 5355 0900
Parking is available in front of the Ararat Town Hall on Barkly St, as well at the rear of and adjacent to the centre. Accessible parking is available immediately in front of the Ararat Town Hall. The Town Hall has ramp access to the main foyer and wheelchair accessible seating, as well as lifts to all levels within the building. Please speak to our staff about your requirements when you make your booking. A hearing loop operates throughout the main auditorium in the retractable seating and balcony. Please note, when seating is retracted, the loop is only accessible in the balcony – please feel free to check loop access with staff when booking. Accessible toilets including baby change facilities are also available. The Ararat Town Hall is pleased to be affiliated with the Companion Card.
The Town Hall foyer and box office opens 30 minutes before events. The box office can be called directly on 5355 0900, 10am-4pm Tuesday – Friday. In person enquiries can be made with Customer Service at the Ararat Gallery TAMA, 82 Vincent Street, Ararat from 10am-4pm Monday to Sunday.
 
---

Hiring Information
The Ararat Town Hall has numerous areas available for hire for your next function, whether it be a theatre production, wedding, meeting, conference, party, dinner. Talk to us about your hiring requirements. Click here for an application to hire form.
Venue enquiries including inspection of hire spaces can be made by appointment. Contact the Town Hall on 5355 0900 or email [email protected].